Safeguarding Patients Through Science: Global Patient Safety
To support our mission to bring safe and more affordable medicines to far more patients globally, we have established a process, spanning the product lifecycle, that ensures products' benefits outweigh their risks.
Pharmacovigilance (PV), or patient safety, is the science and activities that relate to the detection, assessment, understanding and prevention of adverse effects or any other drug-related problem.1
Our Global Patient Safety team strives to ensure the safer use of medicines throughout the product lifecycle, from inception to commercialization. This team of scientists and physicians is dedicated to characterizing the safety of our products to minimize known risks for the well-being of patients globally.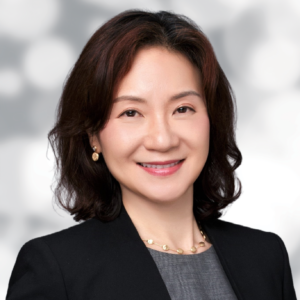 "
Global patient safety prioritizes patients' wellbeing through continuous data collection and generation of scientific insight.
"
–
Han Ma, M.D., Ph.D., Chief Safety Officer and SVP, Global Patient Safety
Enabling Patient Access to Innovative Medicines
Our priority is to ensure safe and innovative medicines are available to far more patients globally.
Why is Pharmacovigilance important?
Insights generated through pharmacovigilance activities enable products to get – and stay – on the market and available to patients suffering from disease.
Health legislation and the formalized science of pharmacovigilance (PV) began in the 1950s, following the thalidomide tragedy, which demonstrated the public health impact of poor drug regulation and incomplete knowledge of a medicine's safety profile. Global health legislation has since established a formal, systematic process to collect safety data to evaluate medicines and minimize risk to patients.
All pharmaceutical companies with products for human use must meet PV obligations, which begin during clinical trials and continue after approval. Although a great deal of information on the product's safety and efficacy is gathered during clinical development, it is not possible to describe fully the safety profile of a product in pre-marketing clinical trials. Therefore, it's important for pharmaceutical companies to continuously monitor product safety following approval and throughout their entire lifecycle.
In rare instances when a product may need to be withdrawn from the market, safety insights contribute to the assessment required to make that decision.
Patient safety ranks highest alongside product quality among stakeholders in our most recent materiality assessment for ESG reporting2, and it is equally important to us.
How does Global Patient Safety ensure compliance with global regulations?
Pharmaceutical manufacturers receive reports about adverse effects potentially caused by our medicines from physicians, patients, and caregivers. We are required by global legislation to share safety data from these reports to regulatory authorities, such as the U.S. Food and Drug Administration, the European Medicines Agency, and the China National Medical Products Administration.
Regulators evaluate these data and work in close collaboration with pharmaceutical manufacturers to ensure up-to-date safety information is available through medicinal package inserts.
Our Global Patient Safety team works to maintain compliance with global regulatory authorities through efficient operations and a quality management system.
Monitoring and Communicating Safety Insights to Patients, Partners and Regulatory Agencies
Characterizing and communicating the safety profiles of all our clinical- and commercial-stage products is critical. We are committed to communicating safety insights, along with efficacy information to patients, partners, and regulatory agencies.
What is a product's benefit-risk?
There is a certain level of risk with all medicines. Products are evaluated to ensure that their benefits outweigh the possible risks. Benefits are commonly expressed as the proven therapeutic good of a medicine, and include efficacy, convenience, and life effects. Risk is the probability of harm being caused and includes product tolerability and safety.
A positive benefit-risk balance is based on the right prescriber, product, patient, timing, dosage and use in a real-world setting.
How is risk minimized?
At the time of marketing authorization, information on the safety of a medicinal product is limited. As not all actual or potential risks are identified during clinical trials, some will be identified post-authorization. Risk Management seeks to address the uncertainties in a product profile throughout its product lifecycle. Once risks are identified, their management is conducted through a Risk Management Plan (RMP). An RMP represents a company's position on the risk management strategy for a product given known and unknown risks.
How is risk communicated?
Documents that describe known safety risks are developed and maintained throughout a product's development in clinical trials and in real-world settings. These documents are known as "labels" and contain information about adverse events observed during clinical trials, along with their seriousness, a description of their nature and frequency of occurrence.
Labeling documents are the basis of safe and effective prescribing, as they are regulated, public guidance documents that draw on diverse data and medical expertise to inform on a product's benefit/risk.
Our Commitment to Innovation and Advancing the Science and Practice of Pharmacovigilance
Relentless improvement of all aspects impacting the product lifecycle is how we live our mission. Our Global Patient Safety team is committed to researching and publishing our perspectives on the value and opportunity in advancing the science of pharmacovigilance. Our innovation roadmap is focused on enhancing the practice of PV globally and is aligned with the company's objectives to improve the lives of patients worldwide.
We will actively pursue collaborations with technology companies, academic institutions, and regulatory agencies to improve our ability to advance safety surveillance in lockstep with our ever-growing pipeline and footprint. Through key partnerships and internal efforts to digitize PV, we strive to pioneer methods and capabilities for the next generation of patient safety monitoring.
Reporting an Adverse Event or Side Effect of a BeiGene Medicine
References: 1. Pharmacovigilance. World Health Organization. Accessed March 2021. Available from: https://www.who.int/teams/regulation-prequalification/regulation-and-safety/pharmacovigilance 2. Sustainability at Beigene: 2020 Environmental, Social and Governance (ESG) Report. Accessed March 2021. Available from: https://www.beigene.com/PDF/2020_BeiGene_Final_ESG_Report.pdf